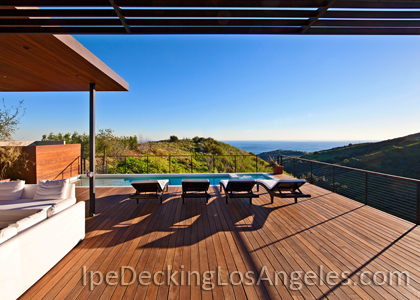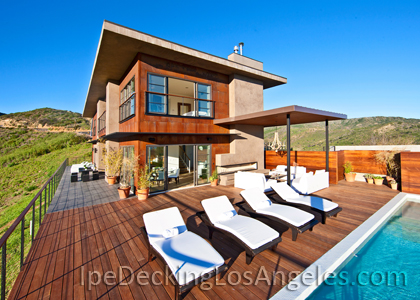 Ipe Decking in Los Angeles
What makes Ipe ideal for your L.A. home? With its flawless blend of looks and performance, it has earned the reputation worldwide as the perfect decking material.
The pictures speak for themselves to ipe's natural beauty, but what about what lies underneath? Why is ipe's durability praised by Los Angeles homeowners? The answer lies in the jungles of South America where Ipe lumber is harvested. It's a rough environment, and only the toughest trees can survive the swarms of hungry insects that thrive in such climates.
To repel the gnawing jaws of ravenous bugs, Ipe wood is impregnated with naturally-occurring oils—a natural bug repellant, if you will. These oils also help to keep the wood from growing mold and rotting—an absolute must in the damp environment of the Brazilian rainforest. Combined with an extremely dense grain and one of the highest hardness ratings on the Janka scale (3,680, if you're curious), the Ipe tree has no trouble withstanding the elements of its native home.
So how do these features go to work for you when you install an Ipe deck? Firstly, you don't have to worry about termites making a wreck of your outdoor living space. Additionally, ipe's raw strength (more than twice that of redwood, and three times that of cedar) can stand up to the heaviest traffic your deck will see. That means no broken boards and no injuries.
The tight grain that gives Ipe its resistance to insects, moisture, and breaking also comes with another benefit: splinter resistance. Your kids can run around on your new Ipe deck without fear of painful splinters.
Finally, all of these features add up to a deck that can last 75 years with almost no upkeep. That means you can sit back, relax, and enjoy your backyard oasis, no sweat!
Are you ready to put this amazing wood to work for you? Call us today, or fill out our free quote request form.